Why Parikia is a must see in Paros
---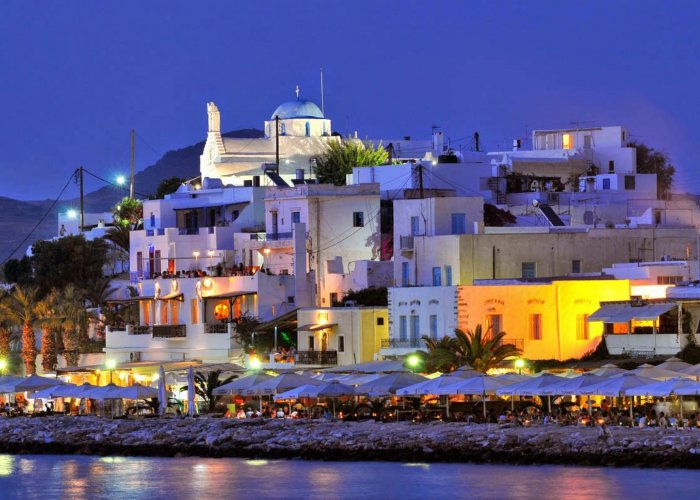 You've arrived on one of the most beautiful islands in Greece. The crystal clear, blue ocean surrounds you and the sandy shores are calling your name – but where do you start on an island like this? Where do you go?  
Once you've unpacked and settled into your room, you will find time to carefully plan your trip and pack it with everything you want to do. But there is one thing we encourage all of our visitors to do on this wonderful island, and that is to spend at least a day visiting the lovely capital of Paros, Parikia.
Where is Parikia?
Parikia is the main port as well as the capital of Paros and it is distinguished by its cobbled alleys, ancient churches and blue and white settlement that are all typical of the Cyclades islands. The town is tucked neatly into a picturesque bay on the west of the island, making it the perfect spot for enjoying calm, clear waters and panoramic views.
Like many of the towns and islands in the area, Parikia has a lot of ancient historical connections. You can see many artefacts, buildings and statues throughout the town during your stay that showcase the island's interesting past. Keep a particular eye out for imagery of boats, as the port has always been integral to the island's success, with Parikia once being a naval hub for the area.
You can also see the statue of Manto Mavrogenous – the heroine of the Greek War of Independence who died in Parikia. Read on to get more suggestions for attractions in Parikia.
What is there to see in Parikia?
With 4,500 residents living in Parikia year round, the town has plenty of facilities to help make your stay comfortable and keep you occupied. From grocery stores to sightseeing, you will find everything in Parikia. This does make Parikia one of the busier tourist destinations on Paros, along with the more northern town of Naoussa. But that shouldn't put you off! It's popular for a reason.
In the town, there are statues and monuments to see, including the Byzantine era church of Panagia Ekatontapiliani which translates roughly as the church of 100 doors. Built by emperor Justinian the Great in the 6th Century, the building now boasts stunning frescoes and interiors.
At this site, you can also visit the Ecclesiastical Museum of Parikia. There are some more buildings and architectural sights to enjoy. This includes Mansions and Monasteries which exude similar beauty and stunning frescoes including the Monastery of Logovardas, Jesus of the Forest and St Anargyroi.
It wouldn't be a visit to Parikia if you don't take a look at the port windmill, or visit the 17th Century Venetian Castle (also known as the Frankish Castle) which overlooks the town, which was built on the site of an ancient temple. It is possible to see how the castle was pulled together using the original structures that once stood there, as the brickwork is a mismatch. It gives an insight into the way the islands were invaded and how these castles were put on top of ancient temples and Greek structures. The castle is also renowned for having one of the most romantic views in Paros, especially at sunset, so if you're on holiday with a loved one this could be a good spot to visit one evening.
Out at sea, experienced divers can see the shipwreck of the MS Express Samina which hit an islets just outside Parikia in 2000 and sunk, where over 80 lives on board perished.
The beaches in the area (just outside Parikia) include Marcello beach and Krios beach, which are some of the most popular and beautiful beaches of Paros due to the well organised sunbeds, umbrellas and facilities that surround the crystal clear waters. The location is perfect for lazing by the sea as there is little to no wind or waves, making the ocean still and relaxing as well as safe for the whole family. Marcello is particularly popular as it has a reasonably priced boat service running from Parikia and back. Cold drinks, cocktails and snacks can be purchased from nearby beach cafes and taverna.
What about other amenities?
The lovely town of Parikia is steeped in history, but there's plenty for everyone in this town. Most of the shops in Paros are found in Parikia or Naoussa, so if you're hunting for a souvenir or like to find unique items, Parikia is a great spot to shop in. From clothes to shoes and jewellery to crafts, there's a lot to buy in Parikia. It's not just handmade trinkets here either, there are plenty of stunning clothes and shoe designers and high end options available on this side of the island.
There are restaurants all along the harbour, and many more down the cobbled highstreets and tucked into picturesque alleyways, giving you some great food and breath taking locations. 
And while it isn't like its Greek party-loving cousins Kos or Zante, Paros does have a surprising amount of bars and the town comes to life at night for those seeking excellent cocktails, friendly atmospheres and live music, especially in Parikia.
Let us know how you find Parikia when you visit and tell us what your favourite attraction, restaurant or bar is!