Paros: All you need to know before you go!
---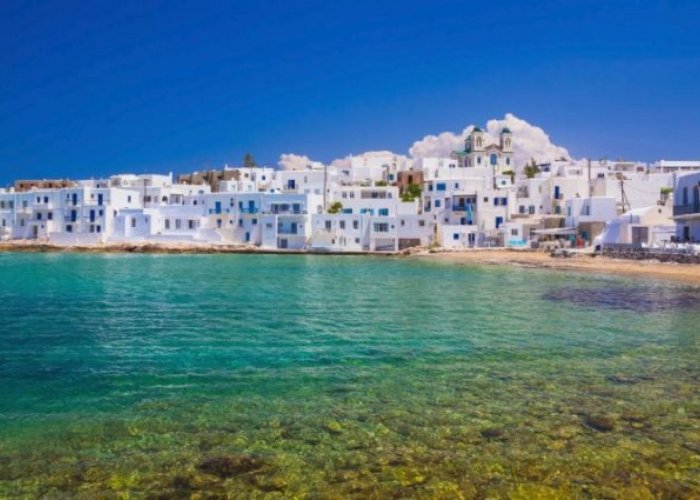 Are you thinking of visiting Paros, Greece for your next holiday abroad? Or are you trying to decide on a place to stay based on where's best on the island? You're not alone if this is the case, many people like to know more about their holiday destination before they book. To help you build your itinerary, we will give you all the information you need to know about Paros before you visit. This ultimate guide includes the top frequently asked questions from tourists visiting Paros, with local expert's tips and tricks to enjoy your stay. Let us know if we've missed anything and we'll do our best to answer.
Where is Paros?
Paros is one of the most popular Greek islands in the Cyclades. It is made up of several small towns, fishing villages and beautiful bays. It is less than one nautical mile from the smaller and more untouched island of Antiparos, which you can easily visit on daytrips. Surrounded by the beautifully, crystal clear waters of the Aegean Sea, you will find this is a perfect location for memorable views, swimming, sunbathing and exploring. 
How do you get there?
There are a couple of options and it depends which airline you travel with – commonly, visitors tend to fly in to Athens, Myconos or Santorini and then take the ferry over to the island. Plan your trip wisely and you can get across quite quickly (roughly 40 mins), but if you fancy taking a more leisurely trip over it can be as long as 3-4 hours from Athens.
You can also fly with smaller airlines from Athens, but there isn't a direct flight from the UK to Paros currently.
How do you get around once you're on the island?
There is a bus stop on site from the small Paros National Airport. Main towns like Naoussa and Parikia have central bus stops, and bus travel is frequent and reliable in Paros – especially in popular months. You will also find the roads are good enough to have a hire vehicle and travel around yourself.
Fancy trying something completely new? You can travel by horseback across the island, and in cooler months you can go for entire daytrips this way.
If you've got your sea-legs there are plenty of boat trips and ferries which can take you across to neighbouring islands, too.
What should you pack?
From May to October, the average temperatures will be over 20°C, meanwhile July and August can reach 27°C in the peak of summer. Average rainfall, especially in the summer months is minimal to none, so we recommend packing your swimming trunks and loose, free flowing clothes that you'll find comfortable in the heat. Suitable walking shoes are also a top recommendation as Paros is renowned for its walks, hikes and hill top monasteries. If you visit out of season, from November to March, you can expect an average rainfall of 50-70mm and temperatures between 14 and 19°C.
Where to eat
There are plenty of restaurants, tavernas and bars all over the island which offer a huge range of cuisines to be explored. Beautiful gourmet restaurants in the hill tops offer outdoors dining and stunning views, while small towns have tasty secrets tucked down alleyways. Meanwhile, restaurants by the coast, marinas and bays often have some of the freshest and finest seafood.
Top restaurant recommendations during the peak season from 2018 included these 3 friendly, traditional, Greek and Mediterranean barbeque restaurants:
- Mylos Traditional Grill
- Symposium Café
- Anna and Giorgos Restaurant
Which beaches to visit
The famous beach of Kolymbithres is a top location in Paros. Only a stone's throw from Naoussa, a quick Google of this beach will show you the strange rock formations that have built up here over millions of years. This landscape is full of interesting rock pools and beautiful, blue, crystal waters.
The neighbouring beach of Santa Maria, is more suited for thrill seekers and those who want more than just to relax on sun lounger. Here, you can take part in high octane water sports while embracing Paros' nightlife, bars and taverna.
What is Paros famous for?
On top of the glorious sandy beaches, historical monuments and monasteries, Paros is also famous for a type of marble! Since the 6th century BC, marble had been Paros' main export. Known as Parian marble, this white marble is one of the finest varieties and has made up a lot of the famous Greek sculptures we recognise today, such as the Venus de Milo. You can still visit the quarries and explore down the shafts and tunnels where this unique stone was once mined. A popular site is close to Parikia and is known as the Marathi Marble quarry.