Top 10 Tips for Nature Lovers Visiting Paros
---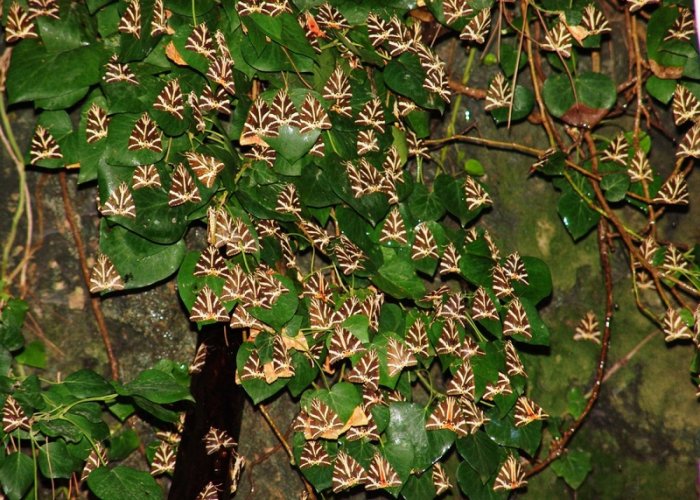 The Cyclades islands are renowned for the untouched beauty that bring in tourists every year, who are looking to switch off from 21st century life and explore some of beauty these hidden gems have to offer. The small, rural island of Paros is an excellent stop, especially for nature lovers. Whether you plan to visit in winter or summer, there will be plenty for you to see. Follow our top ten tips to make sure you see everything Paros has to offer nature lovers. 
The Valley of Butterflies
A quick 5km trip south of Parikia will bring you to the Valley of the Butterflies or Petaloudes as the Greeks say. The Jersey Tiger Moth is native to Paros and depending on the time of year you visit, you will be able to see different stages of the butterfly cycle.
The foliage and natural environment is particularly vibrant which is what has drawn the butterflies here over the decades. The only other place that is home to this same natural phenomenon in Greece is Rhodes, so this is something quite unique.
Wetlands
If you want to explore more of the untouched beauty that the Cyclades offer, the wetland parks are the best place to go. Marshes and lagoons still hold parts of Paros in its natural form, before tourism and settlements began.
There are ten hot spots on the island that are naturally preserved wetlands: the marshes of Kolimpithres, Molos or Kefalos, Parikia, Chrissi Akti, the lagoons of Santa Maria or Pounda and the saltmarshes of Pounda, Agairia, Lageri and Piso Aliki.
From plants to herbs, fauna and flora, birds and wildlife, these wetland parks are perfect to stroll around in the cooler, early morning sunshine. 
Snorkelling at beaches
If you're in Naoussa, Kolymbithres beach is good place to snorkel. When you want to snorkel, look for rockier beaches as this is where the sea life thrives. It isn't just about the fish, there are some amazing rock formations beneath the waves.
Remember to pack your snorkelling gear if you go on a day trip to Antiparos, there is plenty of amazing rocks in particular here, as well as sea life.
Viewpoints
Finding beautiful views like nothing else you've ever seen, is more than just a good photo opportunity. Whether it's a romantic sunset for two or a family stroll to watch the sunrise, finding a good view point can build memories that last a lifetime.
The very hilly parts of Paros, like Lefkes all offer good views. If in doubt head to the monasteries or Frankish castle and you will find what you're looking for.
Walk / Hikes
There are walks and hikes all over Paros, with approximately a network of over 35km to explore, you will find plenty to do if you're an avid walker. Most trails lead up to monasteries or past windmills and spread all over the island, helping you discover the beauty beyond just the panoramic views.
One of the top trails is 3km long and is the oldest trail on the island, dating back to 1,000 AD. Known as the Byzantine road, this trail connects Lefkes to Prodromos.
Sunsets in Parikia
In Parikia, you are at the heart of Paros. Every night, you get to see one of the most beautiful sunsets with more colours than you can imagine. Head to a rooftop café, up the hills, or to one of the monasteries and you can watch as the sun meets the ocean.
Lefkes Pine Forests
Lefkes was the original capital of Paros and although it is famous for its whitewashed buildings and mountainous terrain, it is also surrounded by a gorgeous pine forest. The greenery provides the perfect retreat from the sun and it smells amazing. If you fancy it, there is a feast of Karavola (big snails) that happens near this pine forest every year!  
Environmental Park
Only recently set up as established park, the Environmental Park is the perfect spot for hikers and nature lovers to discover the naturally occurring vegetation and wildlife. You can find it on a peninsula, north of the island. There are plenty of trails and facilities as well as an outdoor amphitheatre which has performances during the peak months.
Orange & Lemon Groves
If you head to the South or East of Paros you will be overwhelmed by the beautiful agriculture there. The smell of herbs and the abundance of fruit, olives and figs is unique to the Cyclades. More than anything else, you will see the orange and lemon groves. Just watch out for creepy crawlies if you decide to take a stroll!
Moraitis Winery
Make sure you taste what the land has to offer as well, by arranging a visit to the Moraitis Winery in Naoussa. This traditional winery has exceptional reviews, friendly and knowledgeable staff and can give a comprehensive wine tasting at an affordable price.