Top 5 Beaches in Paros for Water Sport Activities
---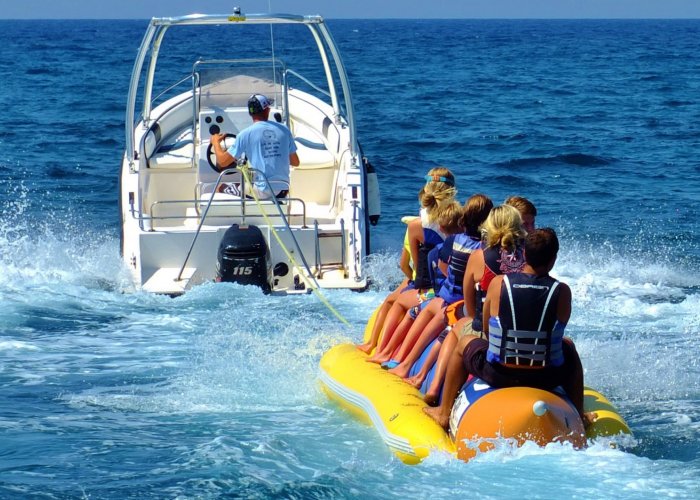 In Paros, you can do everything. From riding horses across the beach for sunrise, to excellent hikes that end with a glorious sunset. While many flock to Paros to laze on the beach, there are many who also head to the beach for fun, adrenaline and adventure – here we sum up 5 excellent beaches and locations, which are perfect for the courageous individuals who wish to partake in water sport activities.
Livadia Beach
The beach itself is fairly remote and excellent for cheap (free often if you eat lunch at the seaside locations) sunbeds, calm swimming seas and within easy access to restaurants and bars. The beach is also home to the Paros Nautical Club Sailing School. Thanks to the gentle waters nestled in the bay here, the sailing school is able to take on beginners and help them learn to safely navigate the waves and learn a totally new skill and sport.
Whether you want one day, learning how to sail or to complete a course, the staff are able to cater to a variety of abilities and requests with a friendly and fun approach – perfect for the whole family.
Kolimbithres
On the very northern tip of the island you can find one of Paros' most famous beaches, Kolimbithres. It is renowned for its unusual rock formations and crystal clear waters. A lot of people head to this beach for its picturesque views and the Instagrammable rock settings.
However, it is more than that! It is also the home to WaterSkiZone where you can wakeboard, wake surf, canoe, pedaloe, flyfish and go in rings pulled by boats and even more! This is the perfect spot for adrenaline junkies and those who want to try something new in the stunning Greek waters. The team that run the sports centre are great fun, you can request specifically if you want it extreme or gentle, depending on your family/friends' requirements – making it great for children and adults alike.
In this area you can also find sailing opportunities.
Golden Beach
Golden Beach is one of the hottest spots in Paros. Not only is the beach one of the longest stretches of fine sand, but it is also famous for the wind that blows there. Known locally as the Meltemi, this wind is supposed to blow from the North 80% of the time or 6 days a week in the peak season of summer. It therefore goes without saying, that this is a great beach for wind-related water activities. Here, you can find several gorgeous seaside restaurants and hotels, but you can also go windsurfing at the brilliant Force7 Windsurfing Centre.
This a relaxed and friendly environment and the owners run a typically Greek and hospitable training centre, providing instruction and equipment perfect for each individual and their needs.
Next door, you will also find Paros Diving Centre, a highly rated diving experience which is capable of accommodating novices and experts alike. It offers magical journeys, 'Filled with live hosts, immersed memories of the past and places that will be sharpened in your mind forever.'
Santa Maria
From tubing to windsurfing, SUP, inflatables, canoes and water ski rentals, Santa Maria Watersports has a lot to offer the entire family and has been operating since 1990.
The beach is set on the northern point of the island, facing into the channel that divides Paros and its neighbouring island Naxos, which creates the perfect environment for enjoying the water and strong channel currents.
This corner of the island is very exciting for sporty and atheletic individuals. There is surfing and yoga opportunities in the vicinity as well as bars and restaurants which are located perfectly on the edge of the waves.
Monastiri Beach
Tucked right into the nook at the northern end of the island, Monastiri beach is in one of the many naturally stunning locations, close by to the Paros Park – so perfect for those who like to work off any extra carbs from their holiday indulgences.
Natural High Wakeboard and Ski centre is located on Monastiri beach, close to the road. You will spot it immediately as it's floating on a manmade deck, next to the stunning rock formations. Fully modernised and safe, the team will make sure you are equipped to go ahead and make sure they do everything the paying customer wants – whether that's an extreme experience or fun floating in the waves. It is described as the perfect playground for adults and children alike.
It's clear that if you visit Paros, you will have plenty of opportunities to be among the surf, bob in the ocean and skip over the waves! If you want it, you will find it, no matter what side of the island you decide to spend most of your time on.