Best Kitesurfing Spots in Paros
---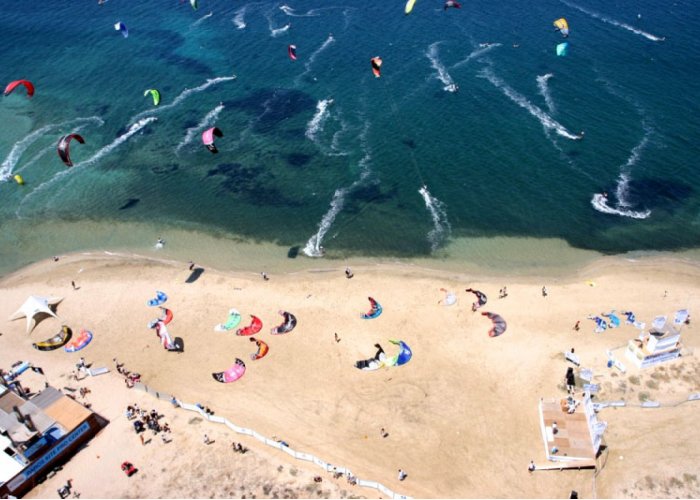 For some, Paros is the home of kitesurfing and windsurfing. Every summer, Golden Beach in Paros becomes the host for the windsurfing World Cup, while Pounta is part of the kitesurfing world tour annually too! Athletes and spectators alike get to immerse themselves in the adrenaline fuelled sports all over the island every year, as well as enjoy some of the most luxurious locations in the Cyclades. But it isn't just during these annual events, that wind related sports are popular in Paros.
The island has become an ideal spot between water sport and wind sport enthusiasts to practice – although it is still a fairly well kept secret of Greece. The winds are stable and consistent which allows for the perfect environment to hone your skills, try new techniques or even start up as a beginner. But experts also enjoy this destination regularly due to the organised competitions that regularly run here by the established sport centres, clubs and trainers.
Whether you're a beginner or experienced pro, the areas in Paros are perfect for this sport and a must-go if you wish to kitesurf some of the world's most beautiful spots. Here are some of our suggestions:
Paros Kite Pro Center, Pounta
Paros Kit Pro Center is one of the most famous kitesurfing locations in the world, due to the fact that it annually hosts the World Cup. Within the kitesurfing community this is the biggest event and it has been running since 2006, gaining traction every year.
If you visit Paros during early / midsummer, you may be fortunate enough to time your visit with the competition and therefore get to watch some of it. Any other time of the year, there may be smaller competitions going on, but watching the experts practice can be just as invigorating.
But what makes Pounta such a perfect hot spot for kite surfers?
The gorgeous coastal village of Pounta is situated on the west coast of the island. The wind here is ideal for wind sports, due to the beach being such a long, flat stretch of fine sand. On average, the wind is blowing steadily 5 out of the 7 days a week here, which means you're almost always due to have perfect conditions for practice.
As a beach, Pounta has been included in the Professional Kiteboard Riders Association World Tour since 2005, meaning you're always close to an expert. If you want to start out or learn more in the sport, this is the perfect spot to set up a bit of training for yourself with the experts' learning programmes.
This beach is an excellent and safe location to try something new and whether you want to learn in a serious environment, or just rent some equipment and have fun – it works for everyone, including the beach goers and onlookers in the nearby cafés.
Paros Surf Club       
On the east coast, at Golden Beach is another set of trainers and equipment rentals, which hire out a range of kite surfing, windsurfing and paddleboards. This is an excellent place to kick back and enjoy the sunshine as well as race around in the wind.
There is a lifeguard on duty and the waters are shallow making it perfect for people to enjoy the waves and the long, flat stretch of ocean before them.
Force 7 Windsurfing
If you're interesting in kite surfing, Pounta really is an excellent place to go, but if you want more variety we recommend Golden Beach, which is also home to Force7, as well as the aforementioned Paros Surf Club. Both of these offer a wide variety of sports to try in an informal and casual environment.
If you have a keen interest in windsurfing, Force7 and Golden Beach really is an excellent place to visit.
Even though it is on the opposite side of the island to Pounta, Golden Beach also has excellent winds. There are experts ready to help introduce beginners to windsurfing, lending out equipment and teaching classes and individuals how to enjoy the sport safely as well as hire available for other experts.
Nearby are lots of sunbeds and places to rest up, including cafes and tavernas making this a great spot for the entire family to relax as well.
With all of these locations that we recommend to you in Paros, your safety is always paramount. We only recommend places for you based on the staff, who are friendly and helpful and not going to upsell you just to make money. They just want to help and make sure your holiday is unforgettable.