The Top 6 Things to do in Paros
---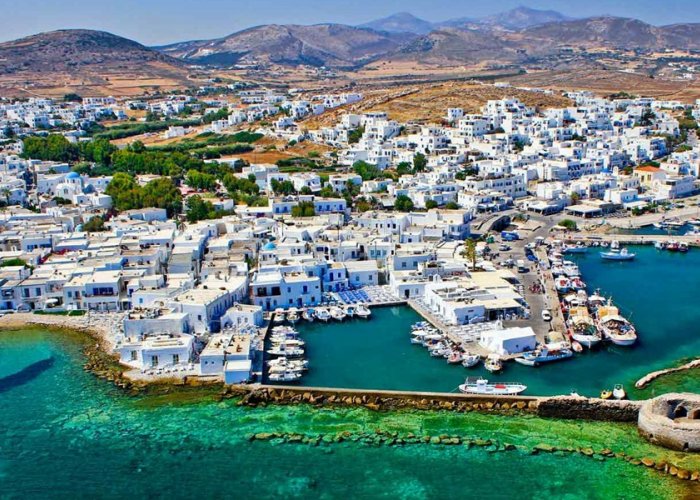 Paros is a top destination in Greece. One of the many islands in the Cyclades island group, sat in the central Aegean Sea – one of the bluest and most glorious seas. Families, couples and individuals come to Paros throughout the year as tourists to soak up the sun, enjoy the landscapes and discover traditional Greek island life as it still goes on today.
Stroll round the beautiful town of Parikia
Parikia is one of the most famous towns on the island, instantly recognisable by its whitewash buildings and blue accents. But even as the busiest hot spot, Parikia is not exactly overrun with tourism and you can still find gorgeous tavernas tucked down cobbled alley ways and quiet traditional shops selling handcrafted goods and beautiful luxury items – from handbags, to clothes, shoes and more.
Sat on the main port of Paros, you can head to the seafront to enjoy the views and indulge in cocktails or dinner as the sun sets over the bay.
With all this to hand, it becomes very easy to see the seduction of island life and Parikia is the best place to take it slow and relax.
Go for a night out
If you're holidaying with friends or your partner, make sure you take a night to see Paros' nightlife. Head to one of the main towns, especially Parikia or Naoussa, and you will be met with a vivid nightlife, amazing cocktails and great people. There are multiple bars and even nightclubs which boast a brilliant, friendly atmosphere. You will be sure to come away with new friends and a favourite spot or two which you'll no doubt want to return to before your trip comes to an end.
Hop on a boat trip to Antiparos
Antiparos is the nearest neighbouring island in the Cyclades group. There's not much on Antiparos and it's less than one nautical mile away from Paros, but if you want a chance to see an island that's almost completely natural, make sure you do a boat trip.
All year round you will be able to hop on a boat and visit Antiparos at some point during your stay. In the peak seasons, there are daily trips available. Captain Ben's is one of the best boat trips on the island. The crew make regular stops to give explanations and history talks, as well swimming/snorkelling stops and even provide lunches in the form of barbecue, snacks, fruit and drinks – it's an unforgettable experience.
Burn off some holiday calories walking in Lefkes
The mountainous village of Lefkes was originally the capital city of Paros. Now, with less than 500 inhabitants, the sleepy village of Lefkes is great for exploring and stretching your legs if you've got itchy feet from a few days of eating and sunbathing. Mostly untouched by tourism, there is still some amazing Venetian architecture to see including churches and windmills as well as some Byzantine religious buildings too. All of these are ornate and stunningly decorated and worth the climb often required to see them. There are also a couple of folk museums in the area if you want to get out of the sun, or if you fancy a stroll follow the Byzantine Road which takes you to the sea.
Discover something you've never seen at Kolympḗthres
If you want to see something unusual but you still want to be able to kick up your feet, catch some rays and RELAX, the famous beach of Kolympḗthres or Kolymbithres is a great place to go. Surrounded by unusual rock formations, this beach makes for a brilliant day out. The name, which means 'swimming pools' is because of the naturally forming coves and rock pools that cover the bay which are great for the whole family to explore.
The rocky environment also produces some of the most crystal clear waters you'll have ever seen – perfect for snorkelling. There's plenty of facilities nearby for food and drink as well as sunbeds to hire if you want to set up camp here for a day. 
Go for an adventure
A trip to Paros can mean lazy days in the sun, sleepy strolls through quiet settlements and romantic sunsets and cocktails – but there's also a lot more than that to be discovered for the adventurers among us. 
Calling adrenaline junkies – you can do somethings in Paros that you cannot do anywhere else. There are places, such as Awake Paros, where you can do water sports and hire a bike to explore the island, but there are some more unusual activities available to those who look for them.  The Windsurfing Centre at Golden Beach is the home of windsurfing in this part of the world and even hosts the Professional Windsurfing World Cup here every August. While you can take part in the water sports here as well, you can just sit back and watch the pros do their thing.